Just wondering how many of you guys are into the more mature boardgames. Me and Emaharg played a Zombie themed one on Monday and I've been reading into loads and decided to jump in the deep end and get a really complex one. It'll probably be a head scratcher but heres what I've bought :
Arkham Horror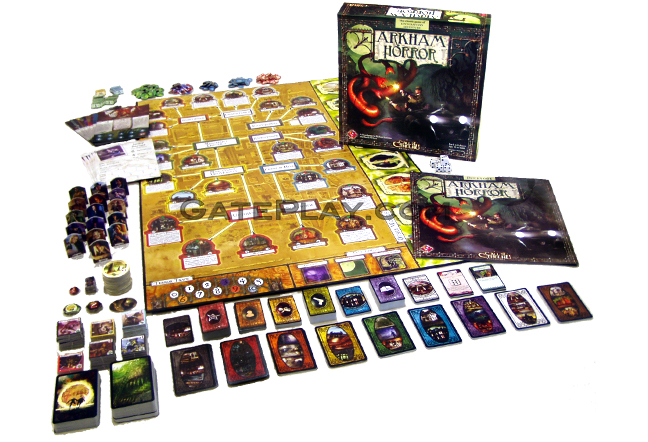 The year is 1926, and it is the height of the Roaring Twenties. Flappers dance till dawn in smoke-filled speakeasies drinking alcohol supplied by rum runners and the mob. It's a celebration to end all celebrations in the aftermath of the war to end all wars.

Yet a dark shadow grows in the city of Arkham. Alien entities known as Ancient Ones lurk in the emptiness beyond space and time, writhing at the gates between worlds. These gates have begun to open and must be closed before the Ancient Ones make our world their ruined domination.

Only a handful of investigators stand against the Arkham Horror. Will they Prevail?
I decided to go with it after reading the description and a few podcast recommendations. Just wondering if anyone else has this and how does it play? Probably not the best game to play as a noob so Emaharg went and bought this for a nice warm up:
Pandemic
You are specialists at the CDC/Atlanta where you watch several virulent diseases break out simultaneously all over the world. The team mission is to prevent a worldwide pandemic outbreak, treating hot spots while researching cures for each of the four plagues before they get out of hand.

Players must plan their strategy to mesh their specialists' strengths before the diseases overwhelm the world. For example, the Operations Expert can build research stations which are needed to find cures for the diseases. The Scientist needs only 4 cards of a particular disease to cure it instead of the normal 5. But the diseases are breaking out fast and time is running out: the team must try to stem the tide of infection in diseased areas while developing cures. If disease spreads uncontrolled, the players all lose. If they can cure all four diseases, they win.

The board shows earth with some big population centres. On each turn a player can use four actions to travel, cure, discover and build. Cards are used for this but the deck also contains Epidemics...
Again, sounded like a great game, and it seems a bit more user friendly. I was thinking of picking up another like Catan, or Carcassone but I think I'll wait it out for a month or two until I can round up some spare cash.
--
Anyone else play boardgames like these? What would you guys recommend? Any decent zombie/apocalypse types?